Training in a wide
range of epoxy resin flooring products
and exterior overlays.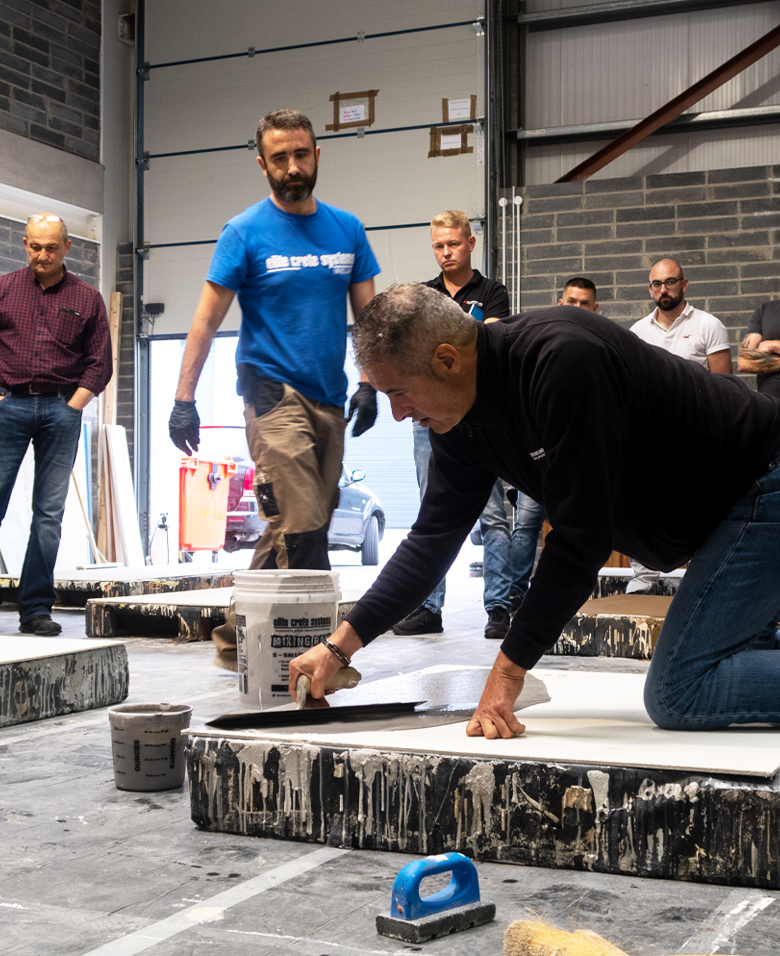 Us at Elite Crete Systems Ireland specialise in the install and distribution of Epoxy Resin Flooring. This product is made of epoxy resin is in preparation to create a decorative concrete underfloor coating for floors as well as a new type of floor material for the construction of new buildings. We supply starter kits after our training seminars, and individual components can be purchased to customise the decorative floor coating. The surface is durable and easy to clean, making the resin floor an ideal choice for use in new construction. On the surface, epoxy floors, known as resinous floors, are extremely durable, adaptable, sustainable and decorative. When it comes to choosing a new floor material for use in new construction and renovation projects, epoxy resins for floor coverings stand out from other floor types. What we like most about epoxides for floor coverings is their high quality, durability and easy cleaning, which makes them one of the most durable and durable floor coverings on the market.  If you are considering epoxy resin for flooring, here are some tips on what makes an epoxy floor and where to use special types of epoxy for your system. There are floors with epoxy coatings, but there is a lot of confusion about what exactly an "epoxy floor product" is and what can be done with it. In fact, it is a completely different product and is used in certain applications, but not in the same way as epoxy resin for flooring. Epoxy resins and coatings are strong adhesives or coatings that are intended to adhere to objects and coat floors, walls and ceilings. The adhesive creates a floor that will hold, withstand different circumstances and protect the existing surface. This is because epoxy floors have proven to be durable and offer a high durability in terms of resistance to heavy loads. Epoxy floors can help to create a safe and clean working environment for workers. Epoxy basement floors create durable surfaces that are perfect for homes and workshops. Even epoxy pebble floors, as found on terraces and sidewalks, hold them together. Epoxy resin is made of a polymer prepolymer that creates strong bonds that are resistant to chemicals, water and heat, making it the perfect solution to create durable floors. Epoxy can be applied to a wide range of materials such as concrete, wood, glass, metal, plastic or even glass. The product, the 12 - empoxy primer, consists of 12% epoxy and 10% polyethylene glycol (PEG). No 214 Table resin forms a glossy hard surface that is dirt-repellent and can be coated on a variety of surfaces such as concrete, asphalt, steel, wood and concrete. Epoxy floors are extremely resistant to water, heat and pressure, making them suitable for a wide range of surfaces. It offers a smooth, glossy surface that coats the surface of hardwood, concrete and bamboo floors. Most epoxy sealers are available in building kits and in many colours and clear varnishes. Epoxy concrete sealing is one of the best sealants you can add to your garage ceiling. You can buy garage floor epoxides that can withstand water, heat and pressure, as well as high temperatures and humidity. Remember that epoxides are available in standard sizes, so you need to buy 1 / 3 of a container to get the required cover and apply two coats. Water-based epoxides are cheaper, while 100% solid epoxy can cost three times as much, according to the US Department of Energy. Epoxy floor coverings tend to be more expensive than their solid counterparts, although they are available in a variety of colours. An ep-oxygen floor coating does not behave like an "epoxy floor paint" in which only the epoxy is mixed in. The epoxy floor coating system delivers coloured flakes that scatter when applied a second layer, creating a speckled pattern on the surface. Epoxy surfaces are sold in most DIY and home improvement stores and have become a popular alternative to finishing - solvents based on polyurethane and polyethylene. The availability of pre-dyed, pre-dyed and post-dyed ep oxygen flooring extends the possibilities of decoration when it comes to stylish outdoor flooring.
Become Apart
Of Our Team
---
This isn't about us putting on a "demonstration" where someone less experienced than you is just going through the motions or reading out of a book. At the same time, this isn't where someone more experienced than you creates a frivolous piece of unsellable, complicated beauty. Training and certification from Elite Crete Systems will teach you real-world applications, finishes and techniques that make and save you money.